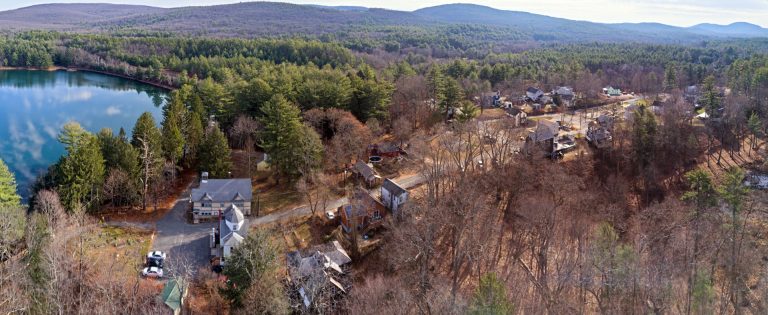 Recreational camps and properties have been a passion for many generations of Americans. It has been a tradition for New England's inland lakes to see small property lots line their shorelines and woods. Such places were ideal locations for Social, Religious and Fraternal societies to gather their members for big events and outings in pleasant surroundings.
As population grew, and housing costs climbed during the 1960s and 70s, many camps were winterized and occupied as year-round homes. These New England lakes became new and permanent residential communities. One such example is the Town of Montague's village of Lake Pleasant.

Lake Pleasant enjoyed its developmental period  in the late 19th century as a resort community. Conveniently accessible via a major railroad that runs north-south along the lake's east bank made it a hassle-free access to the resort. It was the site of various conventions and immense 4th of July celebrations. It's perhaps best known as the meeting place for the New England Association of Spiritualists. Lake Pleasant is the oldest continuously existing Spiritualist center in the United States. A century ago, it was also the largest Spiritualist gathering place in the country. During the 1920s big-name Hollywood stars vacationed at the "Lake." Barbara Stanwyk, Edward G. Robinson, and Mickey Rooney have been mentioned.
Village life is a tightly knit group of cottages located on the east and west sides of the Lake which also is part of the Town of Montague's water supply (3700 surface acres). Originally named "Pleasant Lake", the village is renamed as railroad maps pointed to the area as "Lake Pleasant."
Two events have contributed to the waning of Lake Pleasant as tourist attraction. The development of the lake as a public water supply and a devastating fire scoured the east village in 1907 destroying 130 homes. Although valiant efforts were made to rebuild, the village never achieved its "heyday" glory. The 19th century development pattern is reflected in the Victorian style architecture—some with ginger bread detailing—may be seen in the village. The small lots and narrow, winding roadways give the community a charm and character that is very different from Montague's other four villages.
The pristine watershed around the lake offers many opportunities for passive recreation. Lake Pleasant is located in the area of the Montague Plains Wildlife Management Area. This offers hiking, nature studies, seasonal hunting (pheasant, deer, small game.) When visiting Lake Pleasant take a walk across the Bridge of Names that stitches the east and west enclaves.