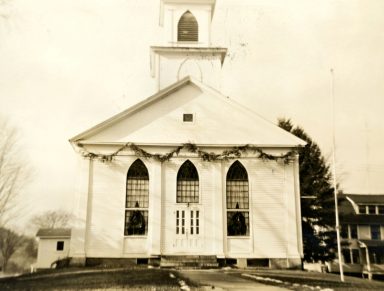 The Montague Historical Society is a private volunteer organization. The goal of the M.H.S. is to preserve all forms of documentation of the growth and changes in the five villages of the Town of Montague.
The Montague Historical Society archive includes materials from the Town of Montague's five villages; Lake Pleasant, Millers Falls, Montague Center, Montague City and Turners Falls. Items in the archive have been acquired by local and outside donations. The collection resides at the Montague Common Hall (formerly Grange #141, and before that, a Unitarian meetinghouse built in 1835). This building is included in the Montague Center Historic District since 2001. The collection has been photographed or scanned, and appropriately stored by village and subject.
All content produced by us using aerial drone video or imagery has been created by a FAA licensed pilot operating under the Part 107 regulations.
Montague Historical Society Administrators:
Mary Melonis-–Archivist and Contact – marymelonis18@comcast.net
Chris Clawson–-Webmaster. Digital and Database Development, drone imagery- chris@montaguearchive.org
Ed Gregory–-Historian, Digital Preservation and contact. ed@montaguearchive.org