Database: How to navigate the site.
A database is primarily a repository of information that is explored by searches or viewing categories. We explain these methods in detail, below.
For those of you who just wish to browse and explore, let us suggest this great method: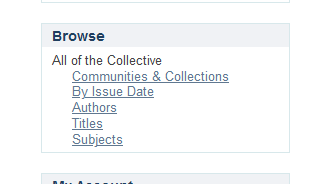 The "Browse" menu is directly below the main search box, at the upper right corner of the collective's home screen. Clicking "Titles" will produce thousands of thumbnail views and links to the items in alphabetical order.
At the top of the browsing page, you may easily control how many listings you wish to see (per page), and may jump quickly to letter of the alphabet a title may begin with. Feel free to explore!
Searching for something specific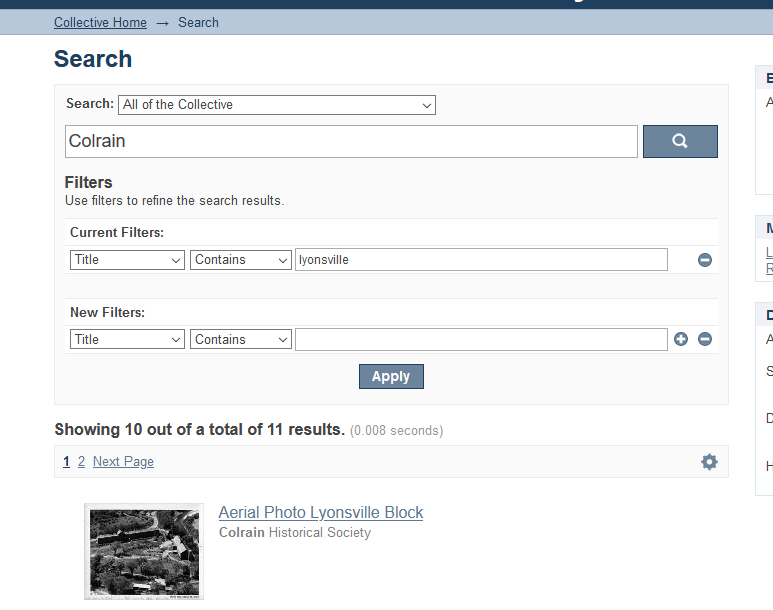 Perform a simple search using the search window at the top right of the screen. Many items may be returned from any match with your term. Our powerful search engine allows the use of "filters", which will help you define more specific details. The Filters menu allow you to define one or more selective item values, such as title, author, subject, or any words and phrases which may be included in the descriptions. Use the blue plus "+" button to add additional filters to produce more exacting searches!
Exploring Communities
"Communities" is the top level of organization in our database. A major community may be sponsored and managed by different organizations, historical societies, or private contributing historians.
Each major community may have it's own sub-categories, organized by topic, collection, or anything they choose. Let's explore how to navigate the communities…
Begin at top of Home Page
1. Click on – Collective Home . . . this window appears.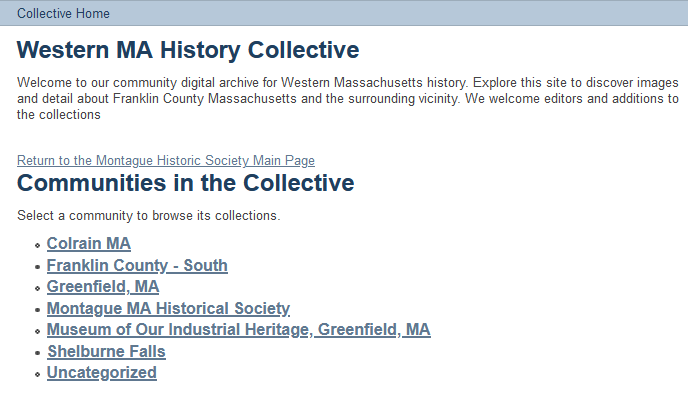 These are the "Top Level Communities". As mentioned, these may be major contributions from different institutions or private collections. Each contributor may be the direct administrator of their content, in a selected top community.
2. You may now select any one of the above "Communities" in the Collective. Let's choose Montague MA Historical Society . . . this window appears: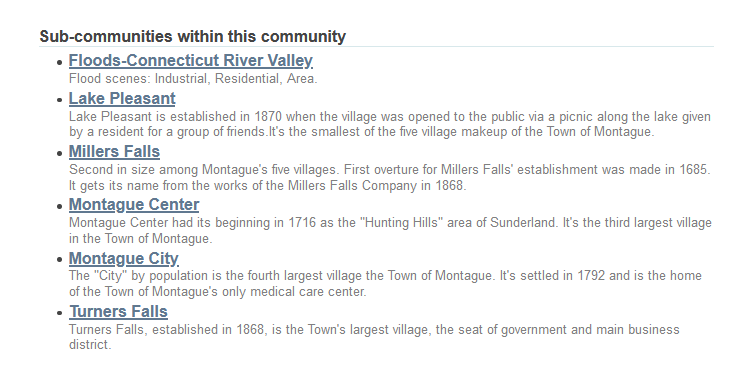 3. You may now select any one of the above "Sub-Communities" in the Community. Let's choose Turners Falls . . . this window appears: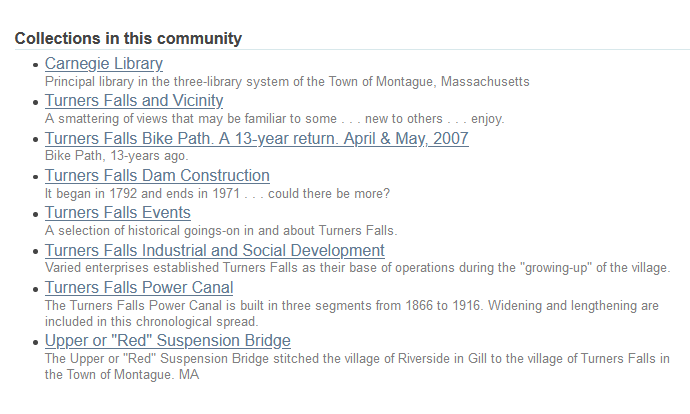 4. You may now select any one of the above "Collections". Let's choose Turners Falls Power Canal . . . this window appears: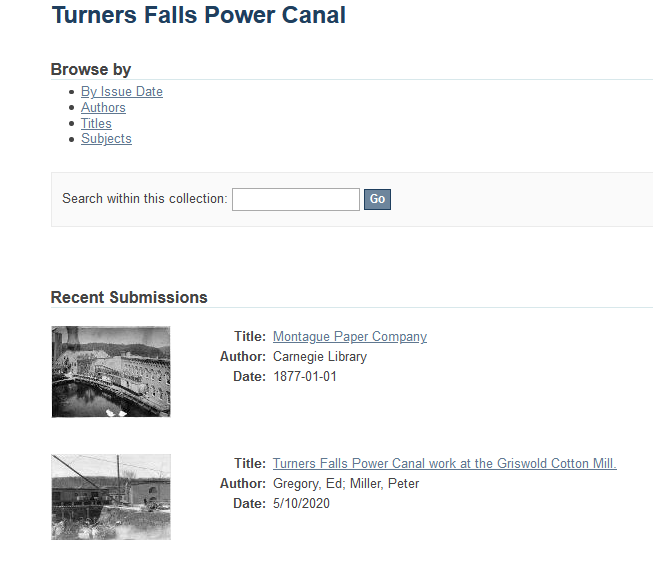 From here you may now visit individual submissions to learn more about their historical, and or, contemporary content.
Click on the Title or the icon to expand the content window. Click on the icon again to expand the view.
Additionally, with the opening of each window you will have the opportunity to
Browse by
By Issue Date
Authors
Titles
Subjects
Other navigation links are available to enhance your Database experience. Thank you. We trust you'll enjoy your visit.
Chris Clawson
Ed Gregory